Electronic Voucher Payment System - EVPS
Coming Fall 2019
Virginia Judicial Electronic Voucher Payment System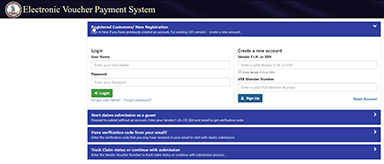 The Electronic Voucher Payment System will allow online submission and tracking of the DC-40 (List of Allowances) by court-appointed counsel.
Benefits include:
* Simple to use;
* Saving DC-40's in draft mode for later submission;
* Payments as quickly as three days from submission;
* Tracking to verify acceptance, rejection and issue of payment;
Future enhancements include court reporter submission and others.
The system includes a 4-minute attorney registration tutorial and an 8-minute training module for attorneys.
Registration is open now. Click on this link to access the Electronic Voucher Payment System (EVPS).